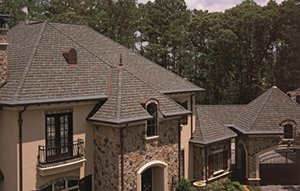 Architectural shingles are an advancement on the regular shingles that you may be used to seeing on many roofs around your community. They are one of the highest quality roofing products that are made, offering both improved durability and performance as well as enhanced aesthetic appeal. Because we strive to provide the very best at Advanced One Roofing, we offer a free upgrade to architectural shingles from 3 tab singles to every one of our customers.
With the many textures and styles available, you can easily find the perfect architectural shingles to match your home, and you will be safe in the knowledge that they will provide many years of excellent performance.
To learn more about how architectural shingles can benefit your home and even increase its value, contact our St. Louis roofing contractors today at 314-757-1942.
Benefits Offered by Architectural Shingles
Improved Construction
Architectural shingles are traditionally constructed from heavy duty water-resistant asphalt that is embedded with ceramic coated granules and has a heavy fiberglass base. These shingles are available in a variety of colors and finishes to replicate a variety of looks. Architectural shingles can be designed to look like cedar shake roofing or slate roofing while offering distinctive color blends, stronger durability, and many other benefits only found in architectural shingles.
Architectural shingles are available in two main style types:
Wood Shake Style Shingles: These are some of the most attractive shingles available as they replicate the look of natural cedar shingles. They have a thick construction and contain random slots which are just like the cedar shakes they emulate.
Slate-Look Shingles: These shingles take a more home friendly approach to residential roofing than real slate, and weigh much less so no extra roofing supports are required to support the natural slate looking shingles.
Enhanced Durability
Advanced One Roofing recommends Owens Corning architectural shingles for their durability and quality of construction. They have been developed to not just provide a water-resistant covering for your home, but also to protect against high winds. It is all too common for many homes to lose shingles when there are excessive wind speeds. However, the Owens Corning architectural shingles that we stand behind for our roofing services have been tested for wind speeds up to 130 mph. As our shingles of choice, these are certified to industry recognized standards and are tested by third party laboratories.
Resistance to Algae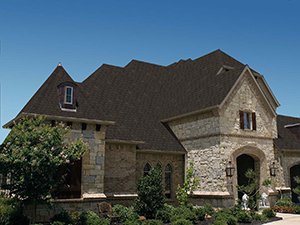 It is a natural occurrence that algae often forms on roofs in warm humid areas. While algae growth does not impact the service life of the shingles, algae may cause brown to black streaks on roofs. Many of our Owens Corning architectural shingle options come with a limited warranty coverage for algae resistance for 15 years.
Contact Us for Architectural Shingle Installation or Repair in St. Louis
Advanced One Roofing is proud of our reputation for providing quality service and quality products for our roofing customers throughout the greater St. Louis area. Because of this, we provide a complimentary upgrade to architectural shingles at no extra cost to all of our customers. This not only gives you peace of mind, but as a professional company, we know that when our experienced experts fit the shingles per the recommended installation instructions, your home will be safe from many adverse weather conditions.
Our expert installers are not just qualified in all aspects of roofing, they have been cross-trained in all aspects of mold remediation and asbestos removal as well. Therefore, you can trust that we are total experts looking out for your home while any work is being undertaken. To get a quote from one of our roofing contractors, call us today at 314-757-1942.