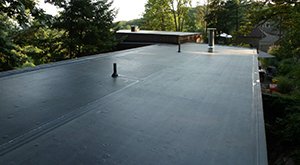 EPDM roofing has proven itself over many years as an easy to install and highly effective roof covering that is more than ideal for many commercial roofing applications. It is a cost-effective roofing material and requires much less maintenance than a lot of other flat roofing options. To learn more or to schedule EPDM roofing repair or installation, contact our St. Louis area roofing contractors today at 314-553-9201.
What Is EPDM Roofing?
EPDM roofing products are manufactured from oils, zinc oxide, curing agents, polymers, and carbon black and as some of the main components. The main polymers used are, diene, polypropylene, and ethylene. The final product is a membrane, which is highly durable, strong, and has lots of flexibility.
EPDM Roofing Application
Advanced One Roofing uses EPDM that is supplied on large rolls of varying widths and thicknesses. There are varying fixing methods that can be used depending on the application such as ballasting, mechanically fastened, or fully adhered. When it comes to sealing, our experts use an extra strong waterproof seam tape that joins the two sheets and provides a strong water tight seal.
EPDM Roofing Benefits
There are many proven benefits of using EPDM rubber for your flat roof. For example, EPDM roofing provides many cost savings over conventional roof types and is much lighter in weight which can make installation much quicker and provide a big reduction in installation and labor costs. Additionally, EPDM rubber:
Has stood the test of time
Is highly flexible and will not crack under shrinking or expanding, during extreme weather conditions
Is easy to repair
Is highly weather resistant
An Energy Efficient Roofing Solution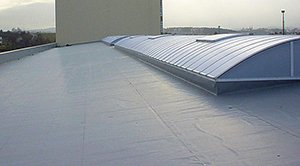 EPDM roof coverings are highly energy efficient. They help to reflect the sun's rays and can also help retain rising heat from the inside of your building, this helps to insulate your building in the colder months and also help to keep it cool during the hotter summer months. Due to its construction methods, the EPDM roofing supplied by Advanced One Roofing is resistant to freezing and cracking during harsh weather conditions.
EPDM Roof Repair
While EPDM roofing systems are often very durable and strong, when these roofing systems need repairing this can be very quick and simple for the professional roof installers from Advanced One Roofing, although there are several steps, which they must take to ensure the seal is strong and water tight.
Generally, an adhesive is used and applied to the roof membrane and a large enough patch to cover the area. Once the areas have been thoroughly cleaned and the applied glue has started to cure, the two pieces are mated together and the installers use a roller to make a perfect seal.
Contact Us for EPDM Roof Repair and Replacement
With all of the advantages associated with EPDM roofing including the ease of maintenance and strong durability once installed, this is a great flat roofing solution for many businesses throughout the St. Louis area.
Call us today at 314-553-9201 to speak with one of our roofing contractors and to find out if EPDM roofing is an ideal solution for your building needs. Make Advanced One Roofing your one-stop-shop for your flat roofing requirements or for any other of our roofing services you may require.