One thing no home or business owner looks forward to is the need for emergency roof repair. From roof leaks to falling trees, these can cause a major inconvenience they can leave your family or employees in real danger.
Advanced One Roofing knows how important situations like this need to be stabilized and made safe as quickly as possible. We have professionals who can deal with any emergency roof repair 24/7 all year round.
So if you need emergency roof repair in the greater St. Louis area, contact our roofing contractors immediately at 314-553-9201.
Emergency Roof Repair: What We Do
If you have an emergency roofing situation requiring immediate attention, our roofing experts will arrive at your property quickly and survey the damage. After making the area safe, our professionals can make any temporary or permanent repairs. Our main goal is to prevent further damage to your property until a more permanent fix is possible.
Advanced One Roofing not only performs emergency roof repair, once the damage has been inspected, we can also repair any of the following:
Siding
Gutters
Soffits
Fascias
Windows
We have found that property damage caused by harsh weather conditions or falling trees very rarely affects just one place. A falling tree, for example, can damage many of the above. A window, gutter, and roof are all possible targets that can leave your home exposed to the elements if not treated quickly and professionally.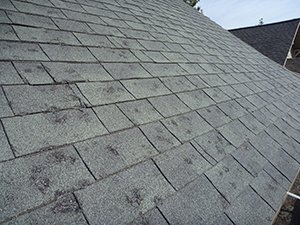 Although not as drastic as a falling tree, water leaks can lead to major damage if not repaired correctly as well. During harsh and extreme weather, water can enter your home or building through many areas that are not properly sealed.
Our roofing experts are highly skilled and can determine what emergency roof repairs are necessary to ensure your property is watertight until the weather conditions subside and a more permanent repair is possible. We can also re-visit and check any damage and emergency roof repair if needed to ensure there has been no further damage or leakage from any temporary repair.
We understand that you may have to go through your insurance company to have your emergency roof repair made into a permanent fix. This makes it more crucial that any temporary repairs are secure enough so that no further damage will occur.
What Sets Us Apart from Other Emergency Roof Repair Companies
No matter what the situation, Advanced One Roofing is proud of the valuable services we provide. Our roofing company believes in honesty, and will provide the best possible solution for any emergency roof repair.
Many companies take advantage of emergency roof repair, and feel it is a chance to line their pocket. Advanced One Roofing cares about our customers and we make sure to get the job done right so your family and employees stay safe.
If you need emergency roof repair or would like to learn more about all of our services available in St. Louis County, St. Louis City, St. Charles, O'Fallon, St. Peters, and Jefferson County, contact our roofing contractors today.