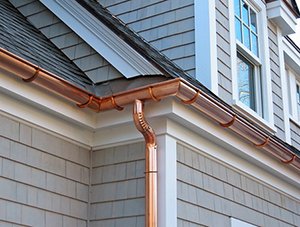 Although the gutters supplied and fitted by Advanced One Roofing will provide many years of service, there is an addition you can make to these, which helps to prolong the life of your guttering system, especially if your home is surrounded by trees. Gutter guard installation can help to protect both your gutter installation and your roof, which, in turn, helps to protect the overall structure of your home or property.
To learn more about gutter guard installation on your home or to request a quote for your project, get in touch with our St. Louis roofing contractors today at 314-553-9201.
What is Gutter Guard Installation?
In simple terms, a gutter guard is a cover that sits over your gutter and prevents debris and leaves from the surrounding trees from entering your gutters. Gutter guard installation can also help protect your gutter systems from being weighed down by heavy clogs, which could loosen the fixings to which they are attached.
Gutter Guard Installation Benefits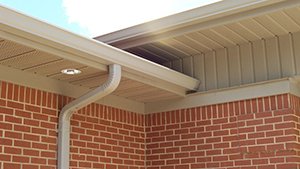 There are many benefits of gutter guard installation, all of which can save you time, money, and headaches:
Extended Gutter Life: Gutter guard installation will help to extend the life of your gutter system. It can protect your gutters from the damage they may sustain from leaves, nesting birds, squirrels, rats, and in some occasions, snow or hail build-up. As an addition to this, gutter guard installation ensures the rainwater actually has a chance to flow properly away from your home, protecting your siding and foundation.
Ease of Installation: In the hands of the experts from Advanced One Roofing, installing a gutter guard is a task that is easily accomplished, and they can be installed over new or existing types of guttering.
Eliminates Water Build Up: In some instances, water can build up in gutters, which then becomes stagnant and is a breeding ground for bacteria and insects that are prone to carrying diseases. Gutter guards prevent clogs that lead to stagnant water build up.
Reduced Maintenance: With gutter guard installation, you will no longer need to be concerned with having your gutters cleaned of leaves and sticks. No longer do you have to hire someone to do this work or find yourself perched at the top of a long ladder all afternoon.
Contact Us for Gutter Guard Installation in St. Louis
If you would like more information on our gutter guard installation or gutter installation services, please contact our St. Louis roofing experts who will be more than happy to answer your questions or give further advice on any of our other roofing, siding, or fascia installations which we provide. We proudly serve the greater St. Louis area including St. Louis County, St. Louis City, St. Charles, O'Fallon, St. Peters, and Jefferson County, so give us a call today at 314-553-9201 to learn more or to schedule a free consultation!