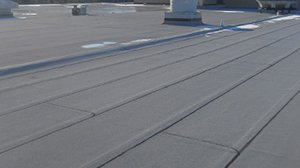 Although flat roofs are ideal in many situations, when they spring a leak the problem can be hard to pinpoint, and when weather conditions are bad, there may be the chance of standing water, which can continually seep into your building. If not caught quickly, this can lead to major problems that may require a more substantial flat roof repair or replacement.
Advanced One Roofing has highly skilled commercial roofing technicians who have years of experience in spotting potential leak problems in all roofing types. Over the years, they have worked on many types of roofing systems to identify and repair leaks. For example, one of the most common causes of problems is when HVAC systems have components that enter the building from the roof. Our skilled technicians can repair these issues and leave you with a water-tight seal, no matter what flat roof type you have, be it asphalt roofing, EPDM roofing, modified bitumen roofing, or TPO roofing.
Our flat roof repair services can instantly fix problem areas such as perimeter flashings that have come loose, seals around roof projections that have become weak, standing water areas, slopes that are either inadequate or inconsistent, drains that have become blocked roof curbs, and so much more.
In the greater St. Louis area, call 314-553-9201 to speak with one of our roofing contractors and to schedule an appointment today!
Expert Flat Roof Repair Crews
Our roofing crews are highly experienced, trained in all aspects of roof repair, and abide by all major safety standards so no matter how large or small your roof repair is, you will be safe in the knowledge it has been repaired both correctly and safely. We can quickly diagnose what your flat roof repair problem is and advise on the best solution to proceed with that is best for your home or business.
Flat Roof Replacement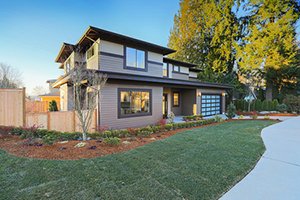 If the worst comes to the worst and we determine that replacement is a more cost effective solution than replacement, Advanced One Roofing can replace any type of flat roof. Our experts will explain all of the roofing systems available for you to choose from and the benefits associated with each type, and we can present you with a replaced roof that exceeds your expectations that still falls well within your budget.
Contact Us for Flat Roof Repair Service in St. Louis
Be it either flat roof repair or roof replacement, our experienced employees are fully certified and trained in installing or repairing any type of roof to a superior standard of craftsmanship. None of our work is subcontracted, so we have total control and total liability on our products and our services, allowing us to provide a very high standard of quality control.
No matter what your flat roof repair or roof replacement requirements, you will be safe in the knowledge you will be protected from the elements and your roof has been repaired or replaced to the highest possible standards. Additionally, when we conduct flat roof repair or roof replacement services, we work closely with our customers to schedule the ideal time to carry out the work so as to cause as little disruption to your business as possible.
For additional information on the flat roof repair or roof replacement services that we offer, contact our St. Louis roofing contractors online or by phone today.