Whether you home was damaged in a fire, strong winds, or hail storm, you may find yourself in need of siding repair.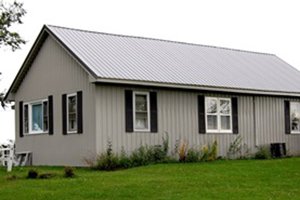 If you are looking for a trustworthy siding repair company in the St. Louis area, look no further than Advanced One Roofing, as our reputation for quality work and trustworthy products extends to siding repair as well! Contact our siding and roofing contractors today by calling 314-553-9201 to schedule an appointment or to learn more about our services.
A Guide to Siding Repair
As with any exterior home component, some damage as well as normal wear and tear is unavoidable, especially when exposed to strong winds and storms. In the case of siding, you may notice the following:
Small cracks – these can occur due to extreme weather conditions, such as hail storms, or the house settling
Small holes – these can be caused by damage in hail storms, storm debris, or as the result of fastenings, cable lines, or phone wires that were removed
Small dents – this can manifest from hail, any windblown debris, or as simple as kids hitting a ball against the property
Minor rot – this may occur if flashing was not installed correctly or has moved
These problems can be difficult to see, and can eventually lead to more major problems without proper siding repair, especially if the weather takes a turn for the worst. Therefore, if you suspect damage or see minor signs of damage, it is important to seek the help of siding contractors as soon as possible.
Siding Repair & How Major Damage Happens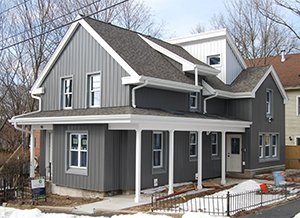 No matter how durable and well installed siding is, there is always the possibility of damage occurring. This not only looks ugly when it happens, but it can leave your home in a very vulnerable position. In the most extreme cases, the following can happen:
The elements start to fight against your sidings
High winds will push and pull any loose siding in all directions
This starts a peeling effect which grows worse as more siding is exposed to the wind
Good fastenings can become damaged or in fact damage more of the siding
Insulation and weather sealed liners can become ripped and/or soaked
In these cases, you should call a trustworthy siding repair company like Advanced One Roofing to assess the situation right away and provide a repair solution.
Siding Repair, What to Do?
When any type of siding damage happens, it needs fixing quickly. Advanced One Roofing has experts to address your problems immediately. We can either provide a temporary fix until a full examination can be conducted, or if the repair is minor, we can fix the problem fully right away.
Small cracks and chips can be filled, yet if the panels do start to come loose, they can bend and warp which can undermine the surrounding panels around them. In any instance, it is important to call a siding repair specialist as warranties can become voided if you try and fix the problem yourself.
Contact Us for Siding Repair in St. Louis
If you have any concerns regarding the condition of your siding or you know that you need siding repair, Advanced One Roofing can meet all of your needs and will advise on the best course of action to take. Our siding contractors will assess your siding and give a full report to see if a repair can be made or if you need more extensive replacement work carried out.
In the greater St. Louis area including St. Louis County, St. Louis City, St. Charles, O'Fallon, St. Peters, and Jefferson County, contact or siding and roofing contractors online or by phone at 314-553-9201 to schedule your free consultation.