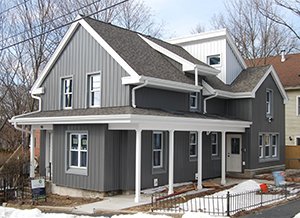 Windows are one thing that can really set your house apart, yet they serve another more critical purpose as well. They keep the harsh weather conditions where they should be: on the outside. This is the main reason why you should make sure your windows are in good condition year-round.
Many windows in older properties were manufactured with wooden frames, and with harsh weather conditions or lack of maintenance, rain can penetrate the window frame causing the wood to rot. Over time, this problem can get worse and will leave you in a position where there is no alternative but to consider window replacement.
Advanced One Roofing has many replacement window options available that can not only let natural daylight fill your home, but also provide energy efficiency and noise cancellation from traffic as well.
As an aside to these benefits, we use only the best vinyl windows, which require very little maintenance over their lifespan, and the frames generally only need hosing down to keep them clean.
Window replacement can also greatly increase the security of your home and as well as your home's value. To learn more about our window replacement services for the greater St. Louis area, contact our roofing contractors through our online form or directly at 314-757-1942.
Window Replacement Benefits
There are a variety of benefits that come with vinyl window replacement, such as:
Reduces window condensation
Increases home insulation and energy efficiency
Reduces solar heat gain during summer months
Increases noise cancellation from outside
Improves home security
Resistant to warping and cracking
Resistant to dirt, environmental pollutants, and chemicals
Long term fade resistance
Our Window Replacement Service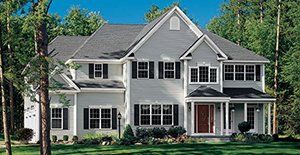 Advanced One Roofing uses only the best windows for our window replacement services. Once we have surveyed your home, each replacement window is custom manufactured and designed to fit into your current window opening. Our windows are available in all different shapes and sizes so we are able to provide you with the ideal combination to meet the unique needs of your home.
We supply only the best high-quality windows that provide both an unmatched performance and an expression of your own distinctive style. We offer a variety of colors and glass types, which all provide the ultimate in energy efficiency.
In addition to window replacement, our window experts can repair your current windows if you have cracked glass panes or problems with window opening mechanisms. We can also help you consider the best options to upgrade your current windows rather than a full window replacement.
Contact Us for Window Replacement Service in St. Louis
Advanced One Roofing provides one of the best window replacement services in the greater St. Louis area including St. Louis County, St. Louis City, St. Charles, O'Fallon, St. Peters, and Jefferson County.
If you are considering window replacement for your St. Louis home, contact the roofing contractors at Advanced One Roofing. You can reach us at 314-757-1942 or through our convenient online form to request a free quote.