Advanced One Roofing provides high-quality commercial roofing services for a wide variety of projects, which can range from small to large. We utilize the highest quality materials currently available from Owens Corning and employ only highly trained roofing experts to ensure your project is completed right.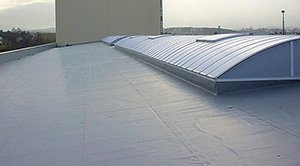 Proudly serving the Greater St. Louis area, including St. Louis County, St. Louis City, St. Charles, O'Fallon, St. Peters, and Jefferson County, we have many professional commercial roofing teams who are qualified and experienced in repairing, installing, or replacing any type of roof. Call us today at 314-757-1942 to speak with one of our commercial roofing contractors.
Complete Commercial Roofing Replacement Services
We can install and replace all types of commercial roofing systems. Whether it is traditional shingles for sloping roofs or a reliable flat roofing system, we can offer the best solution for your needs.
Flat Roofing Replacement
We can replace and install a variety of flat roofing systems that offer many advantages over conventional commercial roof types, such as easy inspection and maintenance and enhanced durability. We also offer flat roof repair and can diagnose and repair leaks in all types of commercial roofing systems.
As part of our commercial roofing services, we install and replace all types of roofing systems and materials including asphalt roofing, designer roofing, slate roofing, cedar shake roofing, EPDM roofing, modified bitumen roofing, and TPO roofing. Our most popular roofing applications include:
TPO Commercial Roofing: TPO roofing is multi-layered and provides high water resistance and insulation while also being a very cost effective solution for your roofing needs. This commercial roofing system is highly durable a resistant to bacteria and debris build-up. TPO roofs can provide a very affordable alternative to other roof types and as an added bonus, they are less likely to be damaged by high winds. Once installed, our TPO roofs are resistant to tears and other impact damage which makes them ideal for many commercial roofing applications.
EPDM/ Rubber: This type of commercial roofing is lightweight and very energy efficient. Not only can it reflect heat from the sun, but can also retain heat in colder temperatures. As we use the best Owens Corning products for our EDPM roofing, we can assure that your roof will provide many years' performance without any major repairs or maintenance.
Commercial Roofing Repair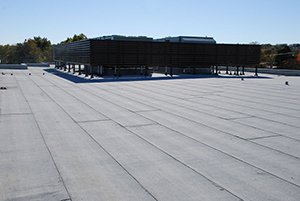 Our professional roofing teams are highly experienced in the repair of all types of commercial roofing systems, these include asphalt roofing, designer roofing, slate roofing, cedar shake roofing, EPDM roofing, modified bitumen roofing, and TPO roofing.
Advanced One Roofing knows only too well how important it is for a business to have a commercial roofing repair carried out as quickly as possible: not only can a leak cause thousands in damage, it can cause a lot of downtime, which means a loss of business until the repair has been fixed. Therefore, we provide quick repairs on your schedule.
Our expert installation teams are also highly experienced in detecting leaks that are not readily apparent, which can cause many problems. Additionally, our experts have been crossed trained in all mold remediation techniques so they can help if any mold abatement is necessary due to a long-term leak.
Request a Quote for Commercial Roofing Services in St. Louis
If you would like to learn more about our full range of our services including mold or asbestos abatement and commercial roofing replacement or repair, contact our St. Louis roofing contractors today by calling 314-757-1942.