In the St. Louis area, we are more susceptible to severe weather conditions than many other parts of the country, and with high winds and strong storms, we often get hail. Hail can wreak havoc on everything that it hits, and one problem area that is often affected is, unfortunately, your home or property. While you roof and siding are made to be durable, there is always a possibility that hail damage may occur with large hail stones.
After any hailstorm, it is important to look for damage as the effects of hail damage to a roof are not easily spotted, and even the slightest hole or damage can let water penetrate. Additionally, if left over time, this can cause major damage inside your property and require costly hail damage repair.
Advanced One Roofing provides hail damage repair to the greater St. Louis area, including St. Louis County, St. Louis City, St. Charles, O'Fallon, St. Peters, and Jefferson County. If you suspect your home needs hail damage repair, contact our roofing contractors today!
Types of Hail Damage to Look for
In general, vinyl siding is highly durable, however during a strong hailstorm it can become cracked, dented, or broken completely. If you notice any signs of this, you should contact Advanced One Roofing immediately for an evaluation and hail damage repair.
 In regards to your roof, hail can cause a different type of damage depending on what type of roof you have. For example, if you have a slate tile roof or anything similar, these can become cracked or broken in the same way that siding can be, and they can also become dislodged and slip out of position.
If you have skylights or any surface which is made of a similar material, the hail is more than capable of penetrating through this and leaving a crack or even a hole which is directly exposed to the elements. If this should occur, emergency roof repair may be necessary.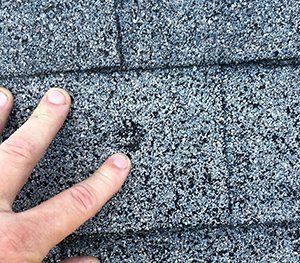 With regards to shingles, the hail damage repair needed may be even harder to detect. The following details what the damage to shingles can appear like:
Composition & Asphalt Shingles
Places where hail strikes may become black in color
Granules are displaced from shingles and expose the roof felt
The asphalt or mat may take on a shiny appearance
Spots where hail has struck may be soft to the touch
Wood Shingles
Hail damage may cause splits in the shingle which turn brown or orange in color
A split in the shingle can cause sharp corners or edges
Impact marks may be found along the splits
Many of these types of damage are hard to detect from the ground and require a closer inspection from a qualified professional who can advise of any hail damage repair that is required.
Complete Hail Damage Repair Services
At Advanced One Roofing, we are hail damage specialists, and we fully understand the impact hail damage can have on a property. To make sure your home remains watertight and protected, we can provide the following services:
Hail Damage Inspection & Evaluation: Advanced One Roofing will provide a free comprehensive hail damage repair inspection report with full details on any damage found or the condition of your roof as a whole. We will also provide photos so you can see the damage yourself without having climb a ladder.
Hail Damage Repair: If the hail damage repair required is minor, we can restore your home to the original condition with minimal effort and cost. For more serious damage, we often recommend roof or siding replacement to ensure a proper and lasting repair. Finally, we can help with filing an insurance claim so that the process is as easy for you as possible.
Contact Us for Hail Damage Repair Services in St. Louis
Our services go far beyond just roof and siding hail damage repair, we can also fix and gutters, soffits, fascias, and windows from any type of severe weather or damage.
For further information on our hail damage repair service or our complete roof replacement services, contact our St. Louis roofing contractors and hail damage experts today.