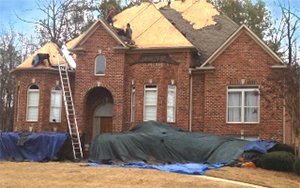 If your roof was damaged due to severe weather or another catastrophic event or if your roof has just reached the end of its expected life, roof replacement is often the most cost effective solution.
Advanced One Roofing offers reliable roof replacement services to restore your roofing back to new. Additionally, we have many highly skilled roofing professionals who are also cross-trained in asbestos and mold remediation, should any of these problems be detected during your roof replacement project. They are also qualified in all aspects of hazardous material removal if it becomes necessary during your roof replacement. Our skilled contractors are also fully experienced in any form of roof replacement, from residential to the many different forms of commercial roofing.
To learn more about our roof replacement services, call our roofing contractors today at 314-757-1942.
Our Roof Replacement Process
If you suspect that you need roof repair or replacement services, our experts will survey your roof and note any problem areas that need attention. We work closely with each client and discuss all the available options to make sure that a roof replacement is actually required and the problem cannot be solved by other means of repair. As a professional company, our reputation is built on honesty and trust, and we will always help you decide on the best solution for your building and for you.
Once your options have been discussed, we will schedule a time that will interfere the least with your business, so as to save as much downtime or inconvenience as possible.
Advanced One Roofing knows all too well that a roof replacement can be one of the largest investments a homeowner or a business owner can make on their property. Therefore, the choice of a roofing company is important.
Choosing a roofing contractor can be both a stressful and daunting experience, and Advanced One Roofing aims to make the whole process as simple as possible. As a leading roof replacement specialist in the St. Louis area, our specialists understand that time can be of the essence when work on a roof is being carried out.
Trust Our Local Experienced Roofing Contractors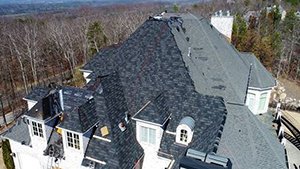 There are many fly-by-night roofing contractors who come and carry out a few roof replacement projects, especially after severe weather hits. However, before you know it, they have left town and are nowhere to be found if you have any problems. Advanced One Roofing has many years experience in the roofing and construction industry and has close ties with Advanced Environmental Services, who has been serving the local St. Louis area for many years.
No matter what roof type you have: be it a flat roof, sloped, shingled or any other custom designed roof, Advanced One Roofing has all the experience and knowledge needed to provide roof replacement quickly and safely.
Additionally, thanks to our relationship with Advanced Environmental Services, our services far outreach just roof installation, and can include any mold, asbestos, lead or other hazardous material removal and abatement, all of which is controlled by the strictest standards and some of the highest working practices within the industry.
Contact Us for a Roof Replacement Quote
At Advanced One Roofing, we proudly serve the greater St. Louis area including St. Louis County, St. Louis City, St. Charles, O'Fallon, St. Peters, and Jefferson County. We have experts on hand to answer any questions you may have about roof replacement or repair. You can reach our roofing contractors today at 314-757-1942 to get answers to your questions or to request a quote for roof replacement service.