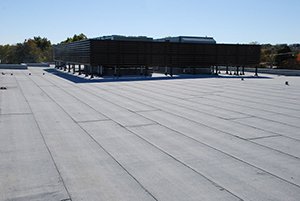 TPO roofing is a modern roofing membrane, which brings with it many benefits. It is not only one of the most environmentally friendly roofing membranes, it can also be one of the most cost-effective methods when looking at roofing options. Read on to learn more, and then contact our TPO roofing contractors at 314-757-1942 to get a quote for your St. Louis area roofing project!
What is TPO Roofing?
TPO roofing is manufactured by forming sheets of polypropylene and ethylene propylene polymers that have been reinforced with polyester. These roofing sheets are highly flexible and contain no traces of chlorine or plasticizer.
TPO Roofing Application Methods
 TPO roofing comes on large rolls, which can vary in thickness and in size. TPO roofing can be fixed in three ways, it can be fully adhered to the surface below, ballasted, or mechanically fastened. Once the sheets are in place, all seams of the membrane sheets are welded together using a hot air method that forms a super strong bond, which is fully waterproof.
Benefits of TPO Roofing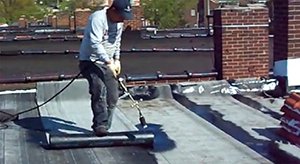 TPO roofing is fast becoming one of the most sought after commercial roofing methods, and our experienced teams are highly knowledgeable in installations using this type of material. TPO roofing is capable of giving your premises a unique clean look, it is highly resistant to debris and algae build-up, requires little maintenance, and for an added touch of uniqueness, TPO can be available in varying colors.
Many of the benefits include:
High flexibility, even at very low temperatures
Highly resistant to puncturing
Resistance to chemicals such as oil, salt, and acid etc.
Very strong seams when bonded
Environmentally friendly material
Improves energy efficiency any lowering cooling & heating bills
UV resistance
Reduces heat island effects and solar heat gains
Contact Us for TPO Roof Repair and Replacement Services in St. Louis
TPO roofs, although highly resistant to puncturing, can at some point in their life receive a puncture – this can be from a falling branch or any heavy item that is that has sharp corners. If your roofing system is damaged, our expert installation crews can perform a repair with minimal disruption and at a fraction of the cost of repairs for other roofing types.
TPO roofing can also be used in roof replacements where an uneven surface remains – a prime example being concrete. There are several types of TPO membranes specifically manufactured for this that consist of a fiber backing, which fills any uneven parts of the roof. This can be ideal to give an aging roof a new lease on life and bring with it all the benefits mentioned previously.
Advanced One Roofing only uses the best materials for all of our TPO roofing repairs or roofing replacements. These are from well-known manufacturers who were at the forefront when TPO was first introduced. Whether your project is large or small, Advanced One Roofing has the expertise to get the job done right.
Your Choice for TPO Roofing in St. Louis
If you are looking for a highly flexible roofing system that will provide many years of service while being an environmentally friendly choice, Advanced One Roofing has experts on hand who will be more than happy to provide you with more information on our TPO roofing systems. We proudly serve the greater St. Louis area including St. Louis County, St. Louis City, St. Charles, O'Fallon, St. Peters, and Jefferson County, so call our roofing contractors at 314-757-1942 to learn more!