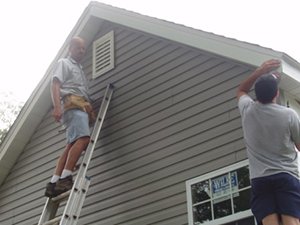 Fascias and soffits are an important component of your roof's construction. While often overlooked, these parts each serve a specific purpose for protecting your home. If damage occurs to these architectural components as the result of rotting, damage from pests, or storms, fascia and soffit repair or replacement will restore these components and ensure your home is protected.
If you are looking for quality fascia and soffit repair in the greater St. Louis area, contact our roofing contractors today by giving us a call at 314-757-1942.
What are Soffits and Fascias?
A soffit is the exposed surface beneath the overhanging section of a roof. Soffits provide a solid or vented cover, which protects the underside of your roof that leads into your attic. They are intended to protect the attic by keeping pests like rats, birds, and squirrels from entering your attic.
Fascias are the vertical finishing edge that is fastened to either trusses, rafters, or the area where your gutter meets your roof. When these are installed, they give your home a seamless finished look that can greatly improve the value of your home. The sole purpose of the fascia is to protect the edge of your roof as well as the interior of your home from water damage.
Soffit Repair & Replacement
It is crucial that your soffits are kept in good condition. If they show signs of needing soffit repair, it can mean that you may have problems in other areas that need to be addressed as well. For example, broken soffits mean that it is possible for squirrels, birds, or rats to enter your home and cause problems with insulation and electrical wiring, while leaving unsanitary deposits around your attic.
If vented soffits have become blocked, this can cause a buildup of moisture in the attic, which can cause roof beams or any surrounding woodwork to rot, and if this goes unnoticed it could mean a major amount of work is needed on the inside of your roof.
As soffits are exposed to the elements, there are early warning signs that your soffits may need repair: these can be rotting and sagging soffits or roof ends as well as damp patches that appear inside your home. If you need soffit repair services, Advanced One Roofing uses only the best materials to ensure your home is protected for many years. Call us today for soffit repair if you notice any of these signs.
Fascia Repair or Replacement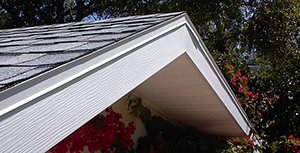 As the fascia is a facing element to the weather, it takes the full brunt of it. When exposed to harsh weather conditions overtime, the fascia can begin to rot, which will then spread to other parts of the roof causing more problems.
In a worst-case scenario, the fascia can actually start to come away from other roofing components. If this happens, you should contact the fascia and soffit repair professionals at Advance One Roofing right away.
Contact Us for Fascia and Soffit Repair Service in St. Louis
Although they are seemingly simple items, fascia and soffit repair can be crucial as they are protecting other main parts of your roof. Because of this, Advanced One Roofing uses only the best materials available to make sure your fascias and soffits stay fixed after we work on them.
If you concerned you may need fascia and/or soffit repair, please contact our St. Louis roofing experts to get answers to all your questions. We can also schedule a free evaluation and consultation to determine the extent of any damage and the fascia and soffit repair services required.
Advanced One Roofing provides fascia and soffit repair throughout the greater St. Louis area including St. Louis County, St. Louis City, St. Charles, O'Fallon, St. Peters, and Jefferson County, so call us today at 314-757-1942.