A good roofing system comprises more than just the roof itself. Gutter installation is also required using a gutter system that is suitable for the size and type of roof which you have. A gutter is normally seen but not thought of until there is a problem, yet they prevent more problems from actually entering your home than you may realize.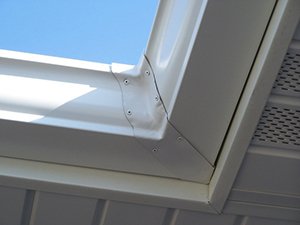 The sole function of a good gutter installation is to collect rainwater that flows from your roof to divert it down channels and downspouts and away from your home. If this does not happen, you may end up with dripping water or leaks that can find their way inside your home and cause major damage, which can lead to mold problems or structural damage to your property.
If you are in need of gutter installation or repair services in the greater St. Louis area, contact our roofing contractors today at 314-553-9201 to learn more!
Gutter Installation & Types
At Advanced One Roofing, we can provide any type of gutter installation that will meet the requirements of your home or your property. We can install any type of gutter system that will not only match your home but will also prevent any potential damage due to leaking.
The main types of gutter systems that we can install include:
Aluminum: This type of guttering is some of the most common in the St. Louis area and comprises of a seamless aluminum construction, which is capable of holding more water than many other types of gutter installation. Aluminum gutters provide years of service and are an affordable long term investment that can help protect your property. Our aluminum gutters can come in a wide array of colors to match your home, and as they are constructed from aluminum, there is no chance of rust.
Copper: Copper gutters are guaranteed to provide a lifetime of usage. They are resistant to most things the elements can throw at them and can provide a unique look that complements many homes. Copper gutters offer a classic marbling, which becomes earth colored over time and somewhat resembles bronze.
Galvanized Steel: This type of gutter installation can withstand the harshest of weather conditions such as fallen branches and can even withstand ladders being lent against them while accessing the roof. They give your property a unique look and can last for up to 30 years, as this type of guttering system is highly durable and resists corrosion they can be slightly more expensive when it comes to installation.
Gutter Repairs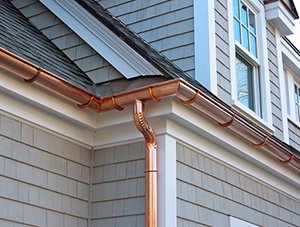 If your gutters have become damaged or have started to leak, it is safe to say that your gutters are in need of repair or replacement. As a leading roofing company serving the greater St. Louis area, we can repair any type of guttering system where possible. When repair is not an option, we can either replace sections of the guttering or our experts can remove the entire old system and upgrade it for many more years of service.
Get a Gutter Installation Quote Today
If you have any concern regarding the condition of your gutter system or you would like a quote for gutter repair or replacement, contact us today! Advanced One Roofing is proud to provide gutter installation services throughout the greater St. Louis area including St. Louis County, St. Louis City, St. Charles, O'Fallon, St. Peters, and Jefferson County. Contact our roofing contractors today online or by calling 314-553-9201.